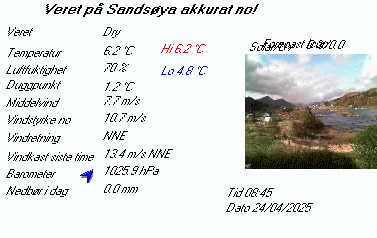 Sandsøyveret
LAST READING AT TIME: 19:15 DATE: 25 June 2022, time of next update: 19:45
Current Weather
Dry
Current Temperature
20.4°C (68.7°F) (Heat Index 20.4°C ), Apparent temp 21.1°C , Apparent temp solar 24.9°C
Maximum Temperature (since midnight)
23.5°C at: 12:02
Minimum Temperature (since midnight)
15.7°C at: 02:18
Average windspeed (ten minute)
0.6 m/s
Wind Direction (ten minute)
S (186°)
Windchill Temperature
20.4°C
Maximum Gust (last hour)
2.7 m/s at: 18:55
Maximum Gust (since midnight)
5.4 m/s at: 08:43
Maximum 1 minute average (since midnight)
4.5 m/s at: 15:03
Rainfall (last hour)
0.0 mm
Rainfall (since midnight)
0.0 mm (0.00 in.)---
Rainfall This month
111.6 mm (4.39 in.)
Rainfall To date this year
696.4 mm (27.42 in.)
Maximum rain per minute (last hour)
0.0 mm/min
Maximum rain per hour (last 6 hours)
0.0 mm/hour
Yesterdays rainfall
0.0 mm
DewPoint
16.4°C (Wet Bulb :18.0°C )
Humidity
78 %, Humidex 25.3°C
Barometer corrected to msl
1010.5 hPa
Pressure change
+0.6 hPa (last hour)
Trend (last hour)
RISING SLOWLY
Pressure change (last 12 hours)
+6.3 hPa
Pressure change (last 6 hours)
+3.1 hPa
Current solar
216 W/m²
Current UV
0.9
Maximum solar (since midnight)
1058 W/m²
Maximum UV (since midnight)
5.8
Current 07:23 hours of sunshine today, current sky: Overcast and gloomy
Sunshine hours for the year:
779:40 hrs
Sunshine hours for the month:
125:55 hrs
Current evapotranspiration rate 4.8 mm per day. Yesterday's reading 4.7
This page is updated from recent data collected by a DAVIS VANTAGE PRO weather station Use the Reload or Refresh facility on your browser to retrieve the latest data.
Status report of weather station: Oppdatering kvart 5. minutt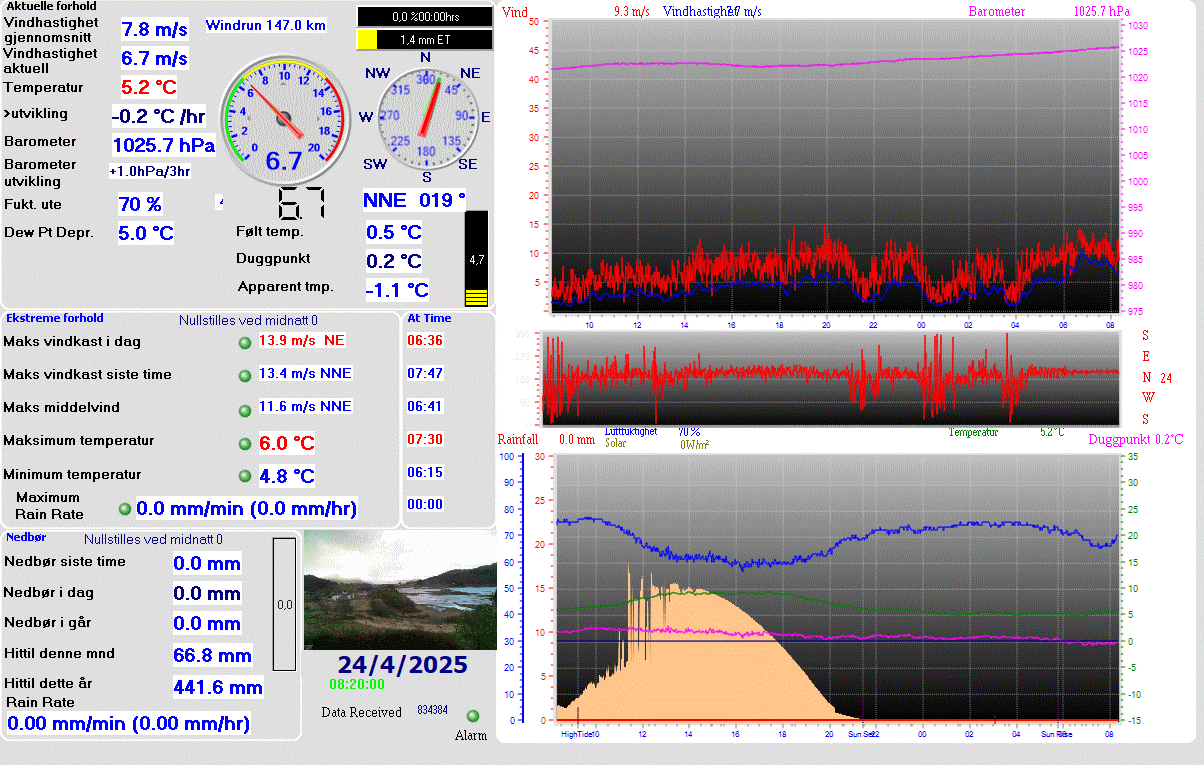 ---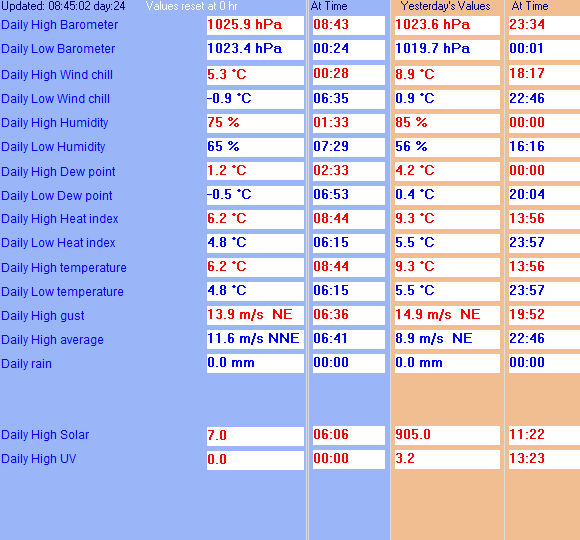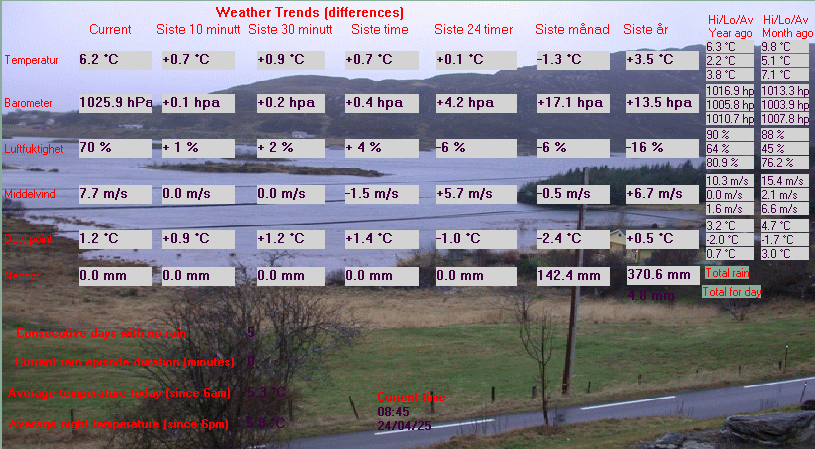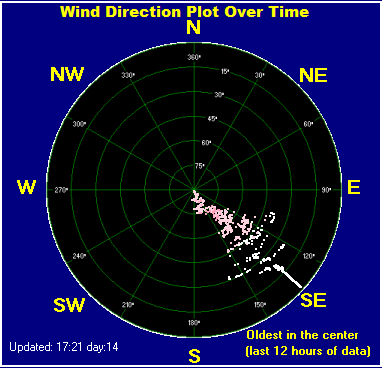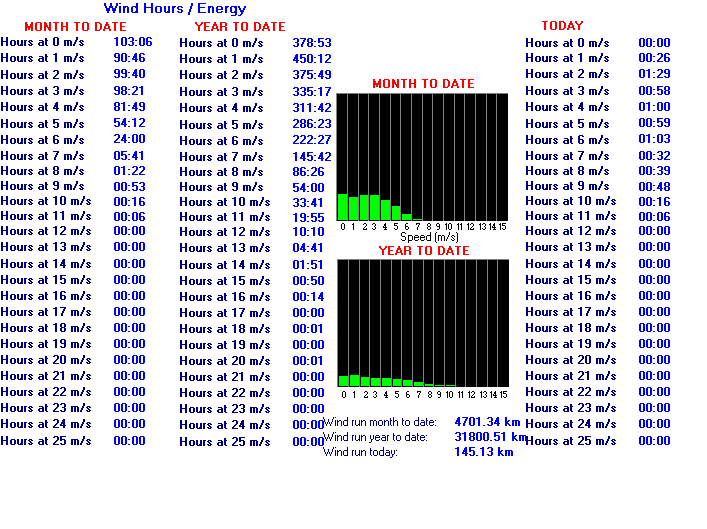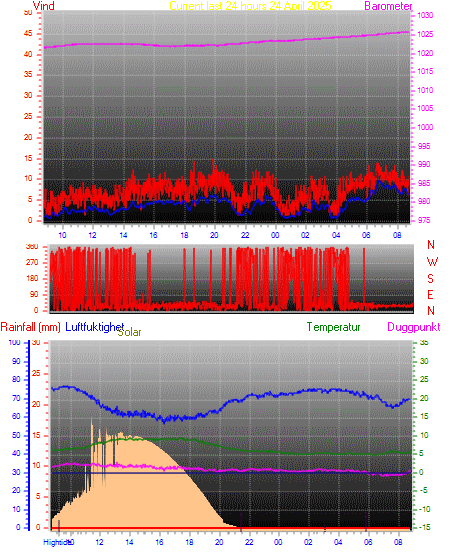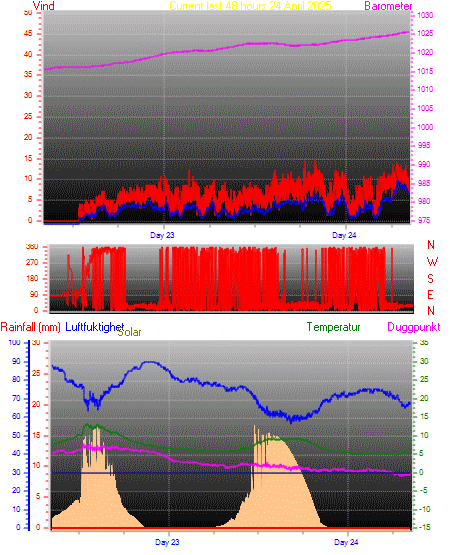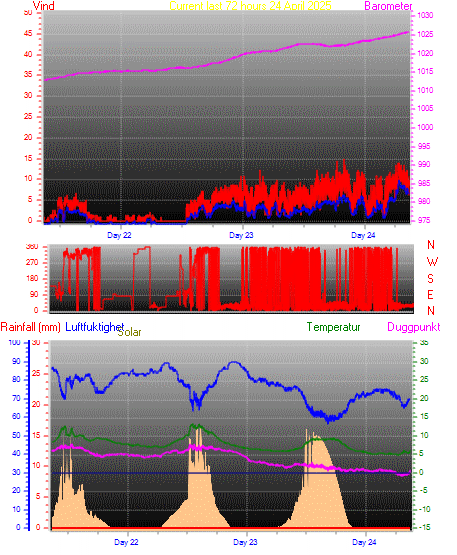 Veret på Sandsøya i levande live!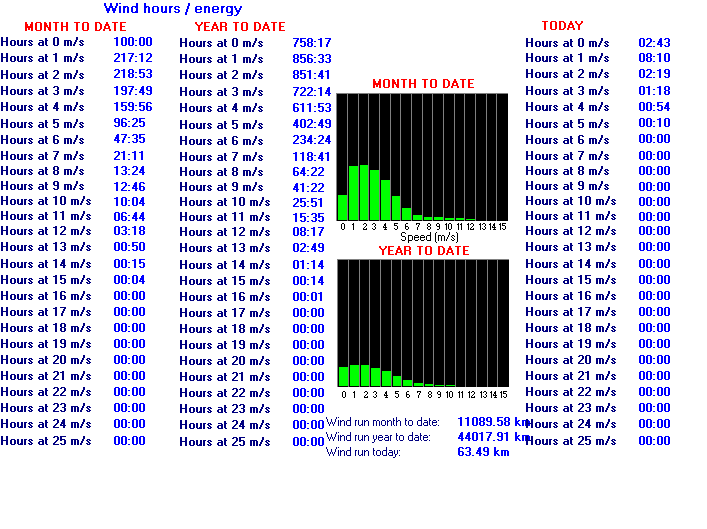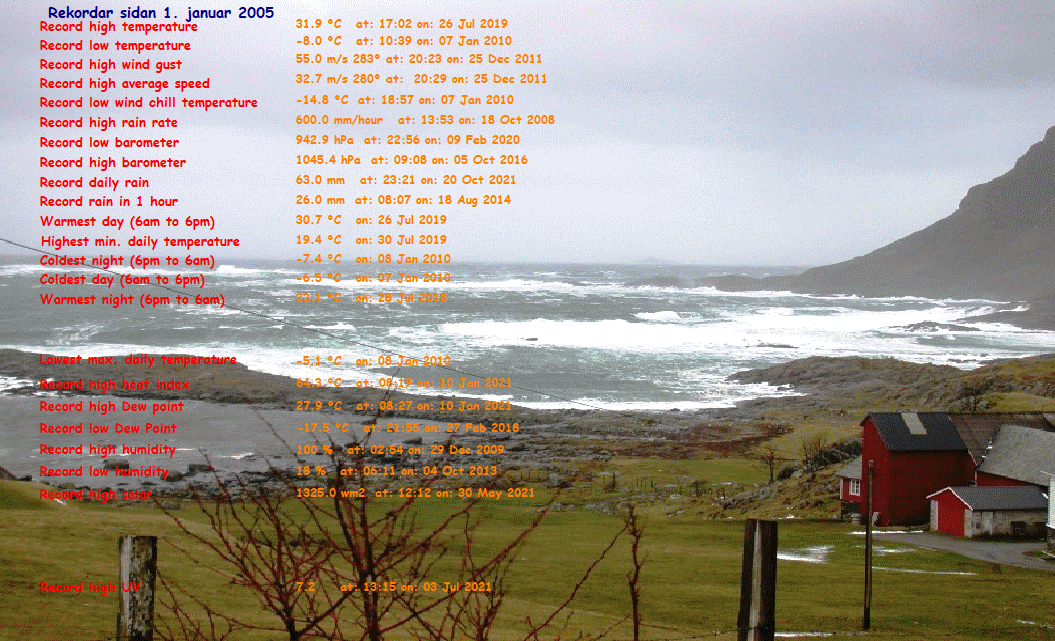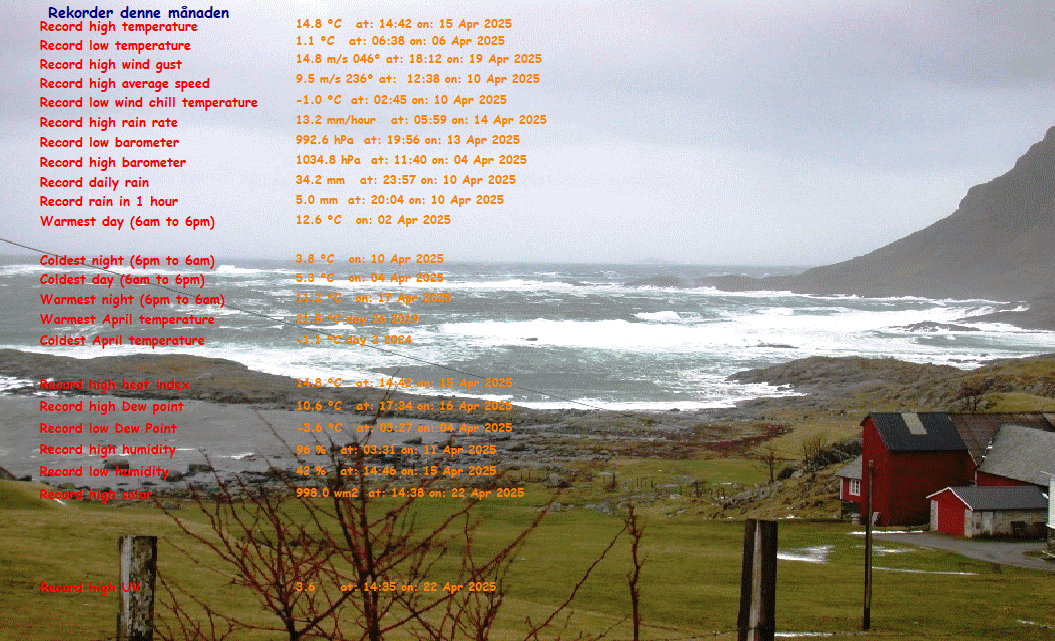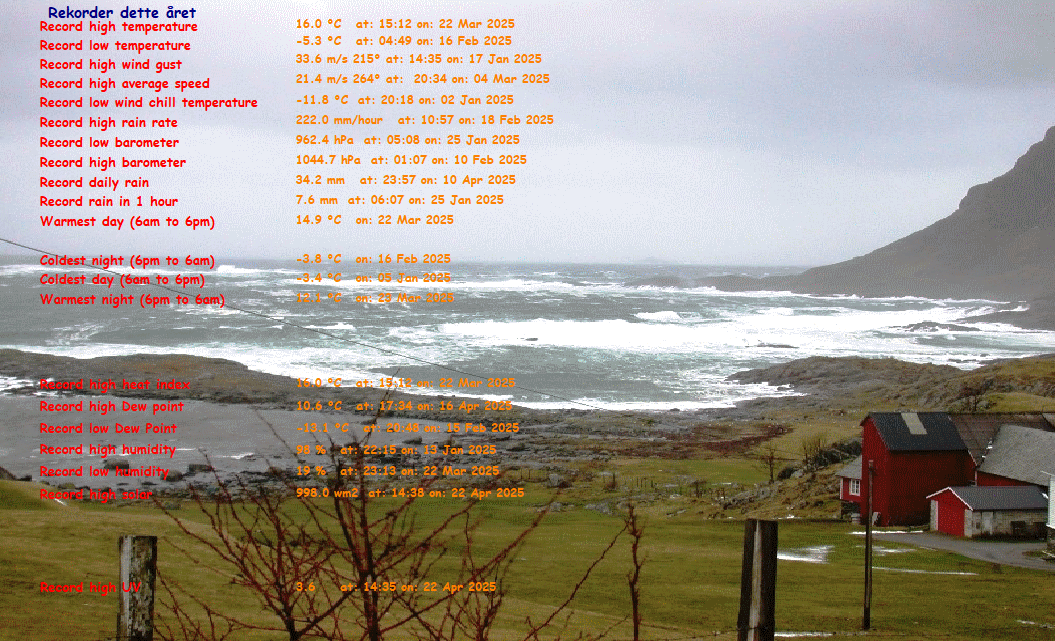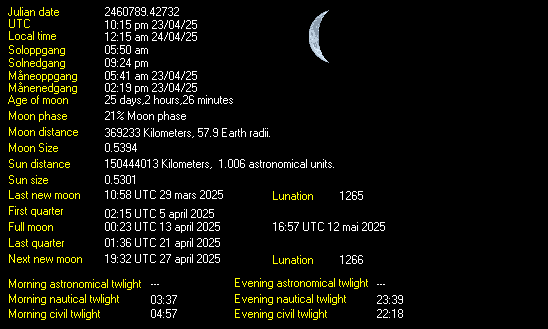 Weather report/warning/Metars

Tunis-Carthage, Tunisia (DTTA) 36-50N 010-14E 4M
Feb 26, 2008 - 03:30 PM EST / 2008.02.26 2030 UTC
Wind: Calm:0
Visibility: 4 mile(s):0
Sky conditions: partly cloudy
Temperature: 53 F (12 C)
Dew Point: 51 F (11 C)
Relative Humidity: 93%
Pressure (altimeter): 30.18 in. Hg (1022 hPa)
ob: DTTA 262030Z 00000KT 7000 FEW023 SCT200 12/11 Q1022 NOSIG
cycle: 20
Manchester Airport, United Kingdom (EGCC) 53-21N 002-17W 0M
Feb 26, 2008 - 03:50 PM EST / 2008.02.26 2050 UTC
Wind: from the W (260 degrees) at 20 MPH (17 KT) gusting to 31 MPH (27 KT):0
Visibility: greater than 7 mile(s):0
Sky conditions: mostly clear
Temperature: 44 F (7 C)
Dew Point: 37 F (3 C)
Relative Humidity: 75%
Pressure (altimeter): 29.77 in. Hg (1008 hPa)
ob: EGCC 262050Z 26017G27KT 9999 FEW035 07/03 Q1008
cycle: 21
Alesund / Vigra, Norway (ENAL) 62-34N 006-07E 22M
Feb 26, 2008 - 03:50 PM EST / 2008.02.26 2050 UTC
Wind: from the ESE (110 degrees) at 9 MPH (8 KT):0
Visibility: greater than 7 mile(s):0
Sky conditions: mostly cloudy
Temperature: 41 F (5 C)
Dew Point: 35 F (2 C)
Relative Humidity: 80%
Pressure (altimeter): 28.79 in. Hg (0975 hPa)
ob: ENAL 262050Z 11008KT 9999 FEW020 BKN055 05/02 Q0975
cycle: 21
Bergen / Flesland, Norway (ENBR) 60-17N 005-14E 50M
Feb 26, 2008 - 03:50 PM EST / 2008.02.26 2050 UTC
Wind: from the S (180 degrees) at 7 MPH (6 KT) (direction variable):0
Visibility: 5 mile(s):0
Sky conditions: mostly cloudy
Weather: light rain, drizzle
Temperature: 42 F (6 C)
Dew Point: 41 F (5 C)
Relative Humidity: 93%
Pressure (altimeter): 28.79 in. Hg (0975 hPa)
ob: ENBR 262050Z 18006KT 130V220 9000 -RADZ SCT005 BKN009 06/05 Q0975
cycle: 21
Kirkenes Lufthavn, Norway (ENKR) 69-44N 029-54E 91M
Feb 26, 2008 - 03:50 PM EST / 2008.02.26 2050 UTC
Wind: from the S (180 degrees) at 6 MPH (5 KT):0
Visibility: 3 mile(s):0
Sky conditions: partly cloudy
Weather: mist
Temperature: 0 F (-18 C)
Windchill: -11 F (-24 C):2
Dew Point: -2 F (-19 C)
Relative Humidity: 91%
Pressure (altimeter): 29.32 in. Hg (0993 hPa)
ob: ENKR 262050Z 18005KT 5000 BR FEW001 SCT025 M18/M19 Q0993
cycle: 21
Lista Flyplass, Norway (ENLI) 58-06N 006-38E 10M
Aug 13, 2007 - 04:50 AM EDT / 2007.08.13 0850 UTC
Wind: from the S (180 degrees) at 12 MPH (10 KT):0
Visibility: greater than 7 mile(s):0
Sky conditions: mostly cloudy
Temperature: 64 F (18 C)
Dew Point: 59 F (15 C)
Relative Humidity: 82%
Pressure (altimeter): 29.62 in. Hg (1003 hPa)
ob: ENLI 130850Z 18010KT 9999 SCT012 BKN018 18/15 Q1003
cycle: 9
Orsta-Volda / Hovden, Norway (ENOV) 62-11N 006-04E 74M
Feb 26, 2008 - 02:50 PM EST / 2008.02.26 1950 UTC
Wind: Variable at 1 MPH (1 KT):0
Visibility: greater than 7 mile(s):0
Sky conditions: partly cloudy
Temperature: 37 F (3 C)
Dew Point: 33 F (1 C)
Relative Humidity: 86%
Pressure (altimeter): 28.79 in. Hg (0975 hPa)
ob: ENOV 261950Z VRB01KT 9999 SCT060 SCT080 03/01 Q0975 
cycle: 20
Tromso / Langnes, Norway (ENTC) 69-41N 018-55E 10M
Feb 26, 2008 - 03:50 PM EST / 2008.02.26 2050 UTC
Wind: from the NE (050 degrees) at 2 MPH (2 KT):0
Visibility: greater than 7 mile(s):0
Temperature: 19 F (-7 C)
Dew Point: 15 F (-9 C)
Relative Humidity: 85%
Pressure (altimeter): 29.18 in. Hg (0988 hPa)
ob: ENTC 262050Z 05002KT CAVOK M07/M09 Q0988 NOSIG
cycle: 21
Trondheim / Vaernes, Norway (ENVA) 63-28N 010-56E 17M
Feb 26, 2008 - 03:50 PM EST / 2008.02.26 2050 UTC
Wind: from the E (080 degrees) at 5 MPH (4 KT):0
Visibility: greater than 7 mile(s):0
Sky conditions: mostly cloudy
Weather: light rain
Temperature: 35 F (2 C)
Windchill: 30 F (-1 C):1
Dew Point: 33 F (1 C)
Relative Humidity: 93%
Pressure (altimeter): 28.85 in. Hg (0977 hPa)
ob: ENVA 262050Z 08004KT 9999 -RA SCT015 BKN025 02/01 Q0977 
cycle: 21
Vadso, Norway (ENVD) 70-04N 029-51E 39M
Feb 26, 2008 - 03:50 PM EST / 2008.02.26 2050 UTC
Wind: from the W (270 degrees) at 10 MPH (9 KT):0
Visibility: greater than 7 mile(s):0
Sky conditions: partly cloudy
Temperature: 17 F (-8 C)
Windchill: 5 F (-15 C):1
Dew Point: 15 F (-9 C)
Relative Humidity: 92%
Pressure (altimeter): 29.32 in. Hg (0993 hPa)
ob: ENVD 262050Z 27009KT 9999 FEW015 SCT018 M08/M09 Q0993
cycle: 21
Stavanger / Sola, Norway (ENZV) 58-53N 005-38E 9M
Feb 26, 2008 - 03:50 PM EST / 2008.02.26 2050 UTC
Wind: from the SW (230 degrees) at 15 MPH (13 KT):0
Visibility: 4 mile(s):0
Sky conditions: mostly cloudy
Temperature: 44 F (7 C)
Dew Point: 42 F (6 C)
Relative Humidity: 93%
Pressure (altimeter): 28.91 in. Hg (0979 hPa)
ob: ENZV 262050Z 23013KT 8000 SCT013 BKN015 07/06 Q0979
cycle: 21
Oslo / Gardermoen, Norway (ENGM) 60-12N 011-05E 204M
Feb 26, 2008 - 03:43 PM EST / 2008.02.26 2043 UTC
Wind: from the SW (220 degrees) at 12 MPH (10 KT):0
Visibility: greater than 7 mile(s):0
Sky conditions: mostly cloudy
Temperature: 37 F (3 C)
Dew Point: 37 F (3 C)
Relative Humidity: 100%
Pressure (altimeter): 28.91 in. Hg (0979 hPa)
ob: ENGM 262043Z 22010KT 9999 FEW007 BKN012 03/03 Q0979 TEMPO 4000 RA
cycle: 20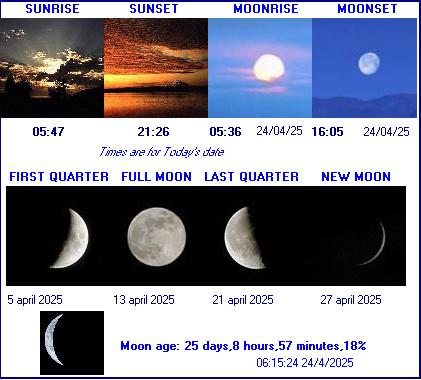 ---
---
The data is logged at two minute intervals, but there is data recorded every minute. Best viewed in 800 x 600 and True colour.

Use the RELOAD facility on your browser to retrieve the latest data.

Click here for a daily update of the averages/extremes to date for the month












Created by "Weather Display" software version 10.37S at this start time/date 17:48:48 10.05.2022